I feel a little like George Bailey this morning. Except I am not a guy. I don't have a savings and loan, an Uncle Billy with an animal menangerie, a Mr. Potter making my life miserable, a bum ear from saving my brother from drowning as a child, or a guardian angel named Clarence. If I took my guardian angel to a bar, he certainly wouldn't order mulled wine, heavy on the cinnamon, easy on the cloves. He would order one of those mortifying electric blue tropical drinks with a zillion umbrellas, a flaming dolphin, and a coconut shell to hold it all together. Virgin, of course.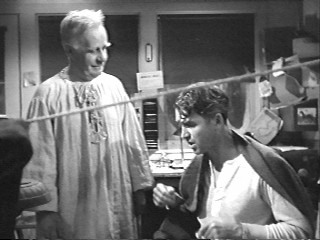 I guess I am trying to say thank you for all your wonderful comments, prayers, and words of wisdom. It is humbling and uplifting at the same time. And I thank all of you for avoiding this:
Like one who takes away a garment on a cold day, or like vinegar poured into soda, is one who sings songs to a heavy heart (Proverbs 25:20).
By singing songs, I mean that nobody felt the need to remind me of all the good in my life, all the blessings I do have. I know that. I didn't miscarry my eyeballs or my brain.
My procedure is this afternoon. I am nervous about making a return trip to the OR. The same OB that did my last procedure is performing today's. If last time is any indication, I will come home and crawl into bed for the next day.
Thanks again. I am so touched and blessed by your support and prayers, and in too many cases, close understanding.