Luck isn't just for leprechauns. I am pretty lucky and there's nothing magical about me. Proof: I got to visit Steve Spangler Science one morning and play with all kinds of science-y goodies. In anticipation and celebration of St. Patrick's Day, Steve Spangler gathered 15 fun and accessible experiments and activities for families to do at home, together.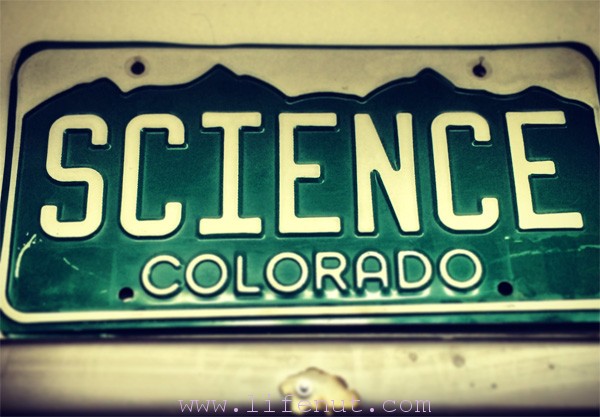 The packaging, instructions, and materials in the Leprechaun Science Kit are top notch. Everything you need is packed in this fun resealable paint bucket:
I had Aidan help by reading the instructions before we got started. Most of the materials are included in the kit. We supplied water and tulips and UV light. Okay. The sun did that. But we were able to dive right in without a huge production.
Of course, we had to make a party of it! I busted out fun themed 'staches and a green 'fro for our junior scientists.
Note the eyewear of the junior scientist above. His specs enable the wearer to see things only privy to senior leprechauns. Through the magic of science, I am able to show you life through diffraction grating. It's magically delicious!
Teddy decided to pair the green hair and mustache with his pirate costume. I wasn't going to argue because he was really into it! That's the beauty of this Leprechaun Science Kit—even a three-year-old can participate and learn.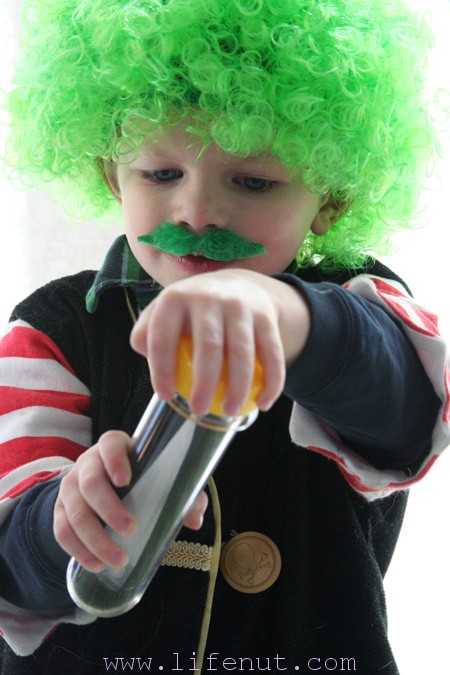 Teddy made Leprechaun Snow, which teaches kids about super absorbent polymers—long chains of molecules.
Next up, we made green worms using several simple steps. Archie and Teddy made worms together, with Sam's help.
Archie strung unassuming white beads on a pipe cleaner. He was a bit baffled, until we encouraged him to take his bracelet outside.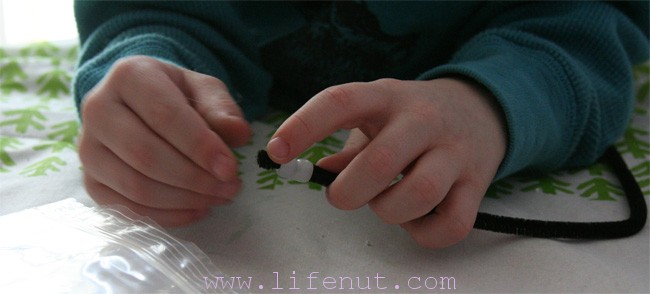 WHOA. More rainbows! Kids see the power of UV light in action. I was surprised by how quickly the beads went from white to brilliantly colored when taken outside.
It wouldn't be spring without tulips. Because Leprechauns prefer green and all we had were these plain white, we had to do something. Enter Green Fizzers. Beatrix added some to water. I helped her snip the stems and then she put them in their green drink.
About 15 hours later, we were able to see some green. The longer they soak, the greener they'll be!
St. Patrick's Day is soon! The Leprechaun Science Kit from Steve Spangler would be a fun way to bring some green into your celebration. But don't think the kit is only fun for a limited time. It comes with cool science supplies to play with year-round, including jelly balls, fizzers, worm creators, rainbow beads, rainbow glasses, and big green bags that make excellent oversized swords. It also comes with test tubes, beakers, and a stand along with measuring scoops and cups.
Visit Steve Spangler Science to order your Leprechaun Science Kit or to instantly download a St. Patrick's Day Leprechaun Science Guide with even more great fun activities and experiments.
We had a blast playing and learning together. Everyone from three-year-old Teddy to our teenagers enjoyed diving into the kit for a morning of fun.
(Disclosure: I visited Steve Spangler Science and was given a Leprechaun Science Kit in exchange for a review. The opinions of the kit and materials are solely mine and my kids'.)