For two years, I was proud to be a contributor at A Deeper Story. I wrote alongside many amazing authors, writers, and poets, often wondering how on earth I got so lucky. I often felt unworthy. They were the Alice Coopers to my Wayne.
Nish Wiseth, the founder and chief editor, has decided the time has come to move on, so she is closing up shop. I've decided to re-post my work from there, with her blessing. These posts often focus on issues of faith, culture, church, and how they intersect through story. I am very fond of these posts and don't want them disappearing. Folding them into Lifenut is like folding chocolate chips into cookie dough.
This particular post was written nearly a year ago. I had no idea how dramatically different life would look exactly one year later.
~~~~~~~~~~~~~~~~~~~~~~~~~~~
The Smoking Baby
(originally published on July 22, 2014)
My mom had a bizarre, painful accident that required surgery, so I drove 250 miles over the Colorado mountains to help her avoid a rocky recovery. She is famous for dropping everything to help in times of trouble, so it seemed completely natural I would do the same for her. I left my husband and children at home with their blessings to go help their beloved grandma. After spending four days in the hospital, she came home and claimed the big recliner with the best TV watching angle and a table nearby for a pile of books.
My brother and I made a big dinner of linguini and meatballs. After, full of good food and happy to have her home safely, we agreed to watch a DVD made from converted, soundless home movies. They were originally filmed in the early 1970s. "They're funny!" my mom promised. I was okay with watching them because they heavily featured Baby Me, spanning my first few days to about age three. Apparently, I cried a lot. I wore handmade bonnets and a lot of yellow.
I also smoked Marlboros and drank Budweiser.
I was about six months old in the snippet. My dad was holding me. He had a wild, full crop of thick black hair and mutton chops from his high cheek bones to lower jawline. 70s Elvis would have sneered with jealousy. My daddy smiled and his eyes were bright, his dimples deep. He bounced me around and made me laugh. "Watch this," my mom said, dryly.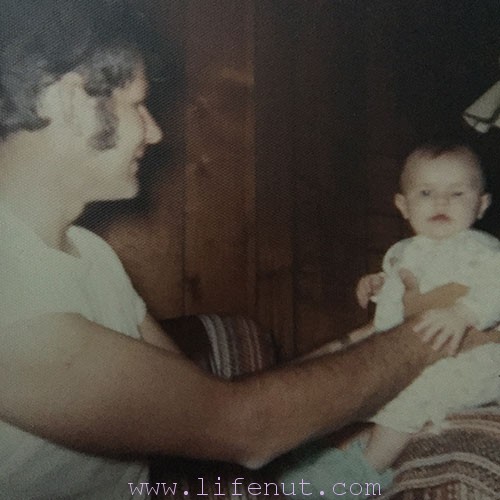 The clip of me bouncing in my dad's arm ended abruptly. After a beat of black, I popped back onto the TV screen with a cigarette dangling from my mouth. It kept falling out but my dad kept replacing it. He must have given up because the clip ended brusquely. Maybe I needed a beer? Boom, little me mouthing the rim of a beer can, tasting, cringing, but tasting again. I glanced at my dad. He shook his head and shrugged. Things were different back then. I rode home from the hospital in my mom's arms. I traveled in a stroller that looked like a bear trap decorated with jaunty orange daisies stolen from Jan Brady's closet. Poor Jan. It was 96% metal hinges and angles. 3% was a small vinyl sling to sit inside. 1% were decorative teething beads painted with lead and poorly attached.
The DVD started a new chapter. I was suddenly six months older and celebrating my first birthday with a Raggedy Ann cake. As I stuffed frosting into my mouth, my beaming parents flanked me. I recognized pride. They looked at me, looked at each other, smiled at the camera, back at me, back to each other. Meanwhile, I was absorbed in the cake decorated with a freaky red-curled clown doll, oblivious to their affection.
Oddly, when I watched the parts where I mouthed a cigarette and beer, I could taste the cigarette and beer. When I watched myself eat cake, I could taste the buttercream. When I was knocked down on screen by an Irish Setter puppy into short green grass, I knew how it felt. The gutter water tasted like rain and dirt, my grandmother's kisses were soft, my grandpa's hand was big and calloused. I was slipping back to a very distant past and filling in blanks I didn't know I had as a child. No child does. They feel, taste, and smell their worlds. But it isn't until later when senses build memories and memories build stories and stories build an autobiography.
There is fire on the tip and a slurring swerve in your step. You are the one who put them in your mouth.
You finally noticed you're an apple of an eye because you looked up from a cloying maniacal distraction frosted with buttercream.
You click off the soundless, garish past.